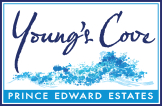 Welcome to Young's Cove
Your Lakeside residence has arrived
Beyond Extraordinary!
Own It! Masterfully planned exceptional waterfront community is measured by the panoramic views, tranquil settings and fresh air. Young's Cove compasses a childrens water park, a zen park, kilometers of pathways, green spaces and sustains 7,000 feet of shoreline, protected pristine wetlands and preserves hundreds of acres of forest with birds and wild life everywhere.
Vineyard Collection
These spacious homes are nestled around natural green spaces and parks. The home styles and designs have been created for families of all shapes and sizes.
Your Backyard
Live It! There are so many leisure activities here that they are limited only by by your imagination. Enjoyment for everyone.
The Lake Collection
The exceptional homes in this fine collection back onto sandy dunes and the picture perfect, ever changing views of Lake Ontario. You will love the architectural details of elegance and refinement.
A One of a Kind Community
Love It! Own your own piece of paradise and surround yourself with the finest of natures bounties. Be part of this extraordinary new home community and lifestyle perfected.